Severn Vale appoints its first poet laureate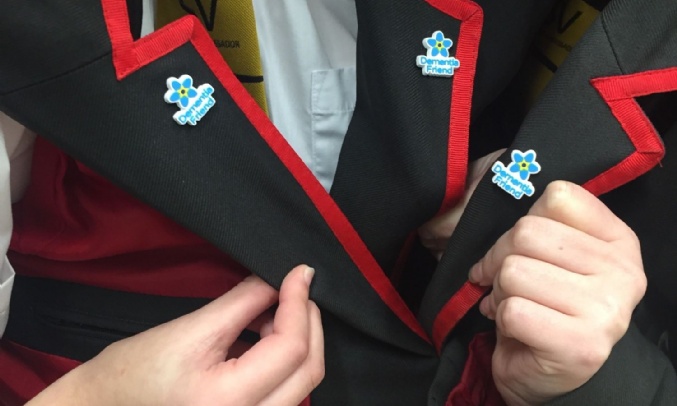 KS3 assessment week, Year 11 parents evening, Alzheimer UK visit and our first poet laureate is named
I am writing this blog at the end of our first assessment week for Key Stage 3 students. This has seen students in Years 7 – 9 taking formal assessments in Maths and Science alongside ongoing assessments in English. The aim of this week is to enable teachers in these core subjects to be able to identify what students know and what they don't know and to ensure that students are making progress in their learning. It is also an excellent opportunity for the students to experience "formal exams" in the sports hall and to go through the process of preparing for exams.
Given the change to GCSEs we know that all of our students will be doing 20+ exams in Year 11. We want to normalise the experience of exams for our students and to give them the skills that will enable them to be as well prepared as possible for this challenge. It has been really pleasing to see the mature and professional conduct of the students. They have taken the exams seriously and prepared well. For the most part they have taken the exams in their stride. This is to their enormous credit.
This week also sees the first of our Year 11 parents evenings, the second being in March. This is a timely opportunity for parents to meet with their child's teachers to discuss progress in this key year. Overwhelmingly the Year 11 students are working really well. They are using their "prep" time each morning effectively, taking advantage of the after school opportunities and applying themselves with real discipline to the challenges of the year. I have every confidence that their hard work and application will enable them to deliver excellent results come the summer. I would also like to thank you for the support you are providing them. I know it's not easy being the parent of a Year 11 student, being one myself!
Our Key Stage 4 Health & Social Care students have had two excellent enrichment activities this week. The Year 10 students had a talk from Alzheimer's UK. They learnt about the effects of dementia and made pledges to become official 'Dementia Friends'. The Year 11 students had a first aid session from our very own St John's Ambulance volunteer, Mr Higgs. The power of our work ensuring all students are taught basic first aid was brought home to me recently when I spoke to an ex-student. They had witnessed somebody collapse and they were able to put them in the recovery position due to the lessons they had learned whilst at Severn Vale.
Finally, last week saw the appointment of Severn Vale School's first poet laureate. The selection process for this role began a number of weeks ago with students being asked to create a poem on the theme of kindness. I was hugely impressed with the quantity and quality of submissions by the students. The entries were then whittled down to four shortlisted students who performed their poems to a judging panel. The quality of the writing was fantastic and it was a pleasure to judge. The winning student and Severn Vale School's first poet laureate is Manahil Imran. She will be supported by Tru Longden-Thurgood. Manahil's poem, R.A.K. is below. I know you will enjoy it as much as I did.
All that is left for me to do is to wish you a great weekend.
Richard Johnson
Headteacher
R.A.K.
With no expectation of reward. It can stop a million tears,
One smile begins a friendship and in a world of darkness,
Those people can help you conquer your fears.
Random smiles of hope, that can lift your soul,
Untie the rope around your neck, stopping you from drowning in a hole.
Random gestures that have the power to brighten lives,
It can be the only thing to keep someone that's helpless,
Alive.
Acts of mercy, in the reoccurrences of life, which can be a battlefield,
Helping the most vulnerable,
Use It, for It can be your only shield.
Acts of compassion, in the toughest of situations,
Giving guidance to those who cry for it,
Bringing together shattered nations.
Kindness is a gift everyone can afford to give,
It can give courage that a soul needs to live.
Have courage and be kind, that is all,
This simple message allows even the shortest to stand tall.
Be the reason that someone believes in the goodness of people,
A Random Act of Kindness is all it takes.
By Manahil Imran