Headteacher's Blog 5-11-21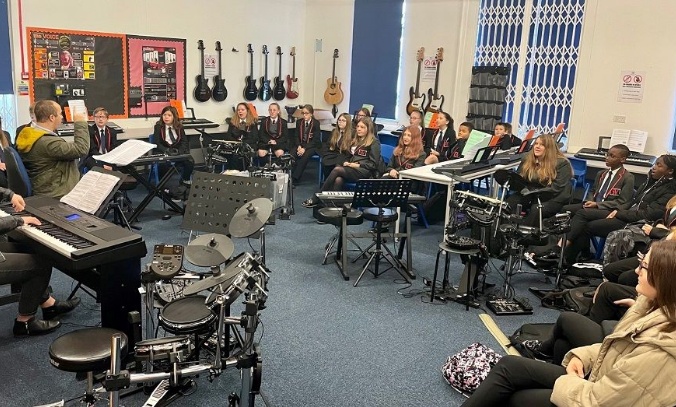 Term 2 has got off to a great start and has included a fabulous opportunity for some of our singers
Autumn is well and truly with us and our return to school has certainly coincided with a drop in temperature. Those lovely warm days in September and October seem a long time ago.
It is to this cold, autumnal weather that we have welcomed back our students for term 2. It has been a pleasure to see them again and overwhelmingly they have hit the ground running, settling back into their studies quickly. This promises to be another very busy term with key assessments for our Year 11 students in December and order assessments for all students in Years 7 – 9 taking place next week. Full details of the order assessments have been sent home previously and revision for these has been set in Maths and Science as homework for the past few weeks. I know the students will give these assessments the respect and attention they deserve.
Unfortunately I have to mention the Covid situation again as the picture locally remains a concern. Current infection rates are significantly higher than the national averages. The majority of those infections are in school-age children although there is evidence of this translating into adults of parent age. We have been lucky so far as the number of infections at Severn Vale remains quite low. We are also fortunate in that we were one of the first schools in the county where students were vaccinated and we will hopefully see the benefit of that over the coming weeks. We have enjoyed a largely disruption-free start to the academic year and want nothing more than for that to continue.
We, like all schools in the south west, have been contacted by the UKHSA to look at ways in which infection rates can be reduced. One of the very best ways to do this is to encourage your son / daughter to take part in the Lateral Flow Device testing programme. This will ensure that asymptomatic transmission is kept to a minimum. Contact lfdtesting@severnvaleschool.com if you would like more details. Thank you in advance for your continued support with this.
I think we would all agree our students have missed far too much school over the past 2 years due to the pandemic. Given the disruption students have faced it makes attendance now even more important. This is why data published by the Government showing national attendance rates for secondary schools running at 85% in the week before half-term were so concerning. Our attendance rate is much higher than this but it is still below where we would expect it to be. It is important to note that both nationally and at Severn Vale the principal cause of higher than expected absence rates is not Covid based absence.
One of the most important factors determining any child's educational success is their level of attendance. The data are absolutely clear that as attendance falls, attainment falls. Of course there will always be times when a student cannot attend school due to illness. However, please do remember that every day does count and that absence will lead to gaps in learning that are difficult to catch up. Thank you in advance for your support in ensuring your child's attendance is as high as possible.
It has been an exciting start to the week in the music department with 30 students across all year groups being involved in rehearsals for an event with the Multi Story Orchestra. They are preparing for a concert taking place in GL1 on Friday 19th November as part of a choir in a piece entitled "Our Future in Your Hands" inspired by Greta Thunberg's activism. It will be performed with a full orchestra and will sound epic: big, dramatic, swelling, cinematic strings and operatic solo voices that make the hair on the back of your neck stand ! It is a fantastic opportunity for our students made possible through our connections with Strike A Light, a Gloucester-based organisation striving to make Gloucester a city with a vibrant culture for all.
As always, I conclude with my weekly reminder about Free School Meals eligibility. If your financial circumstances have changed, your child may be eligible for Free School Meals. If you click on this link you will find guidance on the eligibility criteria and the application process. It's a quick process and we are notified of all FSM entitlements by Gloucestershire County Council each Monday. I would urge you to take a look if you think you may benefit from financial assistance.
It is of course it is Bonfire Night tonight. I'm sure many of you will be enjoying a fireworks display tonight and across the weekend. Please do reiterate the messages to your child regarding firework safety; the last thing we would want is to see any students injured over the weekend.
Regards
Richard Johnson
Headteacher