Headteacher's Blog 12-11-21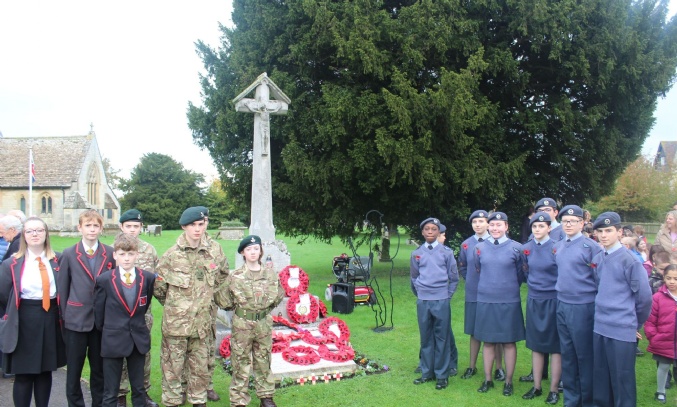 This week saw our students commemorate Remembrance Day
It has been another busy week for our students. In KS3 our students completed the first of their order assessments. These are undertaken as formal exams in the sports hall as we want to demystify and normalise the experience of taking exams. The students conducted themselves superbly and adopted exactly the right attitude. Their teachers will be busy marking the assessments and providing feedback to the students in the coming weeks.
As usual we commemorated Remembrance Day on Thursday 11th November with themed line-up messages and a minutes silence at 11.00am. As is tradition, some of our student cadets also took part in the ceremony at St James Church with Liv Otterwell and Benjamin Lawson-Davis laying a wreath on behalf of the school.
At the recent Gloucester Cross Country Championships, a strong Severn Vale team of 32 students across Years 8 - 10 competed. The top 15 finishers in each race were invited to compete for the Gloucester team in December's County competition. As a school we had some excellent results; Finley Williamson in Year 10 came 2nd in his race where he was competing against students in Year 11, this is a fantastic achievement meaning Finley is the strongest Year 10 cross country runner in Gloucester! Year 9 Ben Mandeville came 15th out of 100 in the Year 8 and 9 race with Year 8 Will Hines coming 16th, just missing out on the County Championships by one place. Year 10 Anja Brotherston came 12th in the combined Year 10 and 11 race. The students worked incredibly hard, conducted themselves brilliantly and were great ambassadors for the school.
The Covid picture at school remains relatively stable with only a few positive cases in each year group. I am hopeful that this remains the case and that any disruption is minimal. One of the reasons I believe we are seeing a lower than average number of cases is that a significant proportion of our Year 8 – 11 students were vaccinated in early October. I know a number of students weren't able to be vaccinated on the day for a variety of reasons. Please be aware that further drop in sessions are being held in the county. Full details are available here.
You can also hear from Professor Sarah Scott, Executive Director of Public Health and Adult Social Care at Gloucestershire County Council about why it's so important young people get jabbed by watching the video here.
We have a saying here at Severn Vale: "today's struggles are tomorrow's stories". As we approach Christmas we are encouraging our students to think about how they can write an entry in someone else's story. Whilst Christmas is a time of joy for many, for some, the pressure to provide for their family is overwhelming, and we get to speak into this. We get to help. The Salvation Army are once again doing their annual gift drive to put together hampers for those families that might otherwise go without and we'd like to help. For those who'd like to support this, we're asking students to buy one extra gift and bring it to school on December 1st. We understand that some people will not be able to take part in this and it's important you know, we get this. To not take part, doesn't mean you don't care. We know this. But for those who can, and would like to, this is an opportunity to write an entry in someone else's story and make a difference when they need it most. Thank for your support with this laudable project.
Feedback from Mr Khokher and Miss Evans is that cast of We Will Rock You are doing far better than just 'Doing All Right'! Rehearsals are well under way and the staging and costumes are starting to be designed. Show timings have been finalised with performances starting at 6.30pm on both Wednesday 2nd and Thursday 3rd March 2022. The first round of tickets (to cast members families) will go on sale w/c 22nd November via ParentPay. They will go on general release shortly afterwards….make sure you don't miss out on the cultural highlight of the year!!
I have been contacted by a group of local residents to raise the issue of considerate parking when dropping off or picking up students from school. There have been a number of incidents where residents' driveways have been blocked and they have been unable to access or leave their properties. I would ask all parents to be mindful of where they park and to be considerate of our neighbours. Moreover, we are fortunate that the vast majority of our students live within 1 -2km of the school. This means that with a few exceptions, our students can walk or cycle to school. Given the sharp focus that the current COP26 Climate Conference is bringing to creating a sustainable future, I would urge you to consider whether it really is necessary for you to drive to drop off and pick up your child from school. Thank you in advance.
As always, I conclude with my weekly reminder about Free School Meals eligibility. If your financial circumstances have changed, your child may be eligible for Free School Meals. If you click on this link you will find guidance on the eligibility criteria and the application process. It's a quick process and we are notified of all FSM entitlements by Gloucestershire County Council each Monday. I would urge you to take a look if you think you may benefit from financial assistance.
Have a great weekend.
Kind regards
Richard Johnson
Headteacher