Headteacher's Blog 19-11-21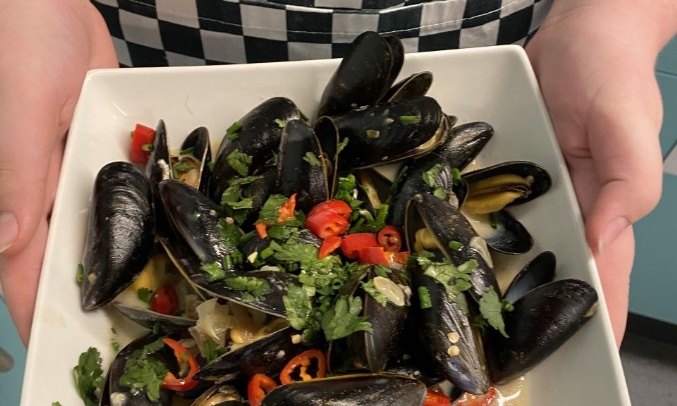 Thai flavoured mussels were on the menu for our GCSE food students in a masterclass with Matt Stead for Gloucestershire College
As the term progresses we are beginning to see a definite upturn in the number of positive Covid cases, although they do still remain at relatively low levels. This week we also saw a slightly greater impact on staff which unfortunately led to more lessons being covered than we would want. Disruption to date this academic year has generally been low and we want that to remain the case. One of the best ways of doing that is to get as many students as possible taking LFTs regularly so that asymptomatic cases are picked up quickly. Testing kits are available from school. If you want your child to take part in this programme and they currently aren't, please email lfdtesting@severnvaleschool.com for more details.
A second way to help reduce potential disruption is to ensure that your child is vaccinated against Covid. I know a number of students weren't able to be vaccinated on the day organised in school in October. Please be aware that drop in sessions are being held in the county. Full details are available here. You can also hear from Professor Sarah Scott, Executive Director of Public Health and Adult Social Care at Gloucestershire County Council about why it's so important young people get jabbed by watching the video here.
This week we took 30 Year 11 students to The Everyman Theatre to see a production of Blood Brothers, as part of their GCSE English Literature and Drama studies. The students relished the opportunity to see the text they have been studying brought to life on the stage. For many of these students, it was one of their first experiences of live theatre and it was so rewarding to see how enthusiastic and engaged they were. The Year 11 students have been provided with an invaluable experience which will inspire their writing and performances in upcoming mocks. The students were a real credit to the school, and it was an absolute joy to take them. We hope this is the start of many trips to the theatre that we can now start running.
The food department have been luckily enough to have been given free mussels as part of the "Fish Hero Programme". This initiative aims to ensure every child gets a chance to prepare, cook and eat fish before they leave school. On Thursday after-school we welcomed Matt Stead from Gloucestershire College's Catering department who along with our own Mrs Child ran a Mussels masterclass. The students were shown how to prepare and cook the mussels safely using Thai green flavours. It was great to see so many of our GCSE Food students and others taking advantage of this informative and (I can confirm) very tasty opportunity. Thanks of course go to Matt and to Mrs Child for providing the students with this masterclass.
Next week sees our first Flexible Learning Day since academic year 2019-20. This is a day when we are able to offer a range of enrichment opportunities to complement our normal curriculum. As an 11-16 school the post-16 experience for our Year 11 students is a particularly important element in our careers provision. I also always enjoy seeing our Year 10 students dressed up in their business attire for the employment skills day. The opportunity for these students to benefit from a mock interview is a real highlight and I would like to thank in advance all of the volunteers who have generously given their time to make this session possible. The full programme for the day has been circulated to parents already. If you do have any questions please direct them to Mr Connor.
It's been a bumper couple of weeks of sporting fixtures for students:
Girls fixtures
Year 8 & 9 Hockey - A 3-0 loss in their first ever hockey fixture against a very strong Denmark Road team. Player of the match was deservedly given to Madison Reeves for her tireless work in midfield.
Year 10 & 11 Hockey - A 2-0 loss against another very strong Denmark Road side. Player of the match went to Year 10 Summer Walsh for her work in goal.
Year 9 Netball – A 28-10 victory in their game against Holmleigh Park. Player of the match was Jasmine Blench for her amazing shooting.
Year 10 Netball - A brilliant start for the Year 10 netball team, winning both of their fixtures so far; 12 - 3 against Barnwood and 18 - 7 against Holmleigh Park.
Year 11 Netball - Another excellent netball win for the Year 11 team, winning 9 - 5 against Barnwood.
Year 7 Football - A very competitive and close match for the 'A' team saw them on the wrong side of a 2-1 defeat against Churchdown who scored a last-minute winner! Player of the match went to Ava-Rae Lane. The 'B' team also lost with Molly Panting getting player of the match.
Year 8 & 9 Football - A 4 - 1 win against Churchdown school, goals scored by Kayleigh Taylor, Lauren Lagan, Beatriz Silva de Feria and Leilani Ryder, with Leilani getting player.
Year 9 & 10 Football - A fantastic team performance from the girls with a win against Churchdown. Goals from Beatriz Silva de Feria, Holly Ennis, Shanai Mitchell and Tori Parker. Player of the match went to Leilani Ryder, however Churchdown's teacher said every single player was deserving! A special mention to Kayleigh Taylor and Chase Codlin who volunteered to play out of position in goal for half of the match.
Boys fixtures
Year 9 Rugby - the Year 9s ventured down to Dene Magna for our fixture this week. The fixture, as expected was a physical battle with both sides not wanting to take a step backwards. The Severn Vale boys showed excellent resilience coming from a 10-0 down to win 35-10. The boys are making excellent progress and I am proud of their commitment; stand out performances included Oscar Berry, Matthew Prior-Cox and Josh James.
Year 10 Rugby – following a defeat to Holmleigh Park earlier in the season, the Year 10 team turned the tables in this local derby with a fantastic and hard-fought 32-27victory.
As always, I include my weekly reminder about Free School Meals eligibility. If your financial circumstances have changed, your child may be eligible for Free School Meals. If you click on this link you will find guidance on the eligibility criteria and the application process. It's a quick process and we are notified of all FSM entitlements by Gloucestershire County Council each Monday. I would urge you to take a look if you think you may benefit from financial assistance.
Finally, please remember that next Friday (26th November) is an INSET day for staff only.
Have a great weekend.
Kind regards
Richard Johnson
Headteacher