Headteacher's Blog 10-12-21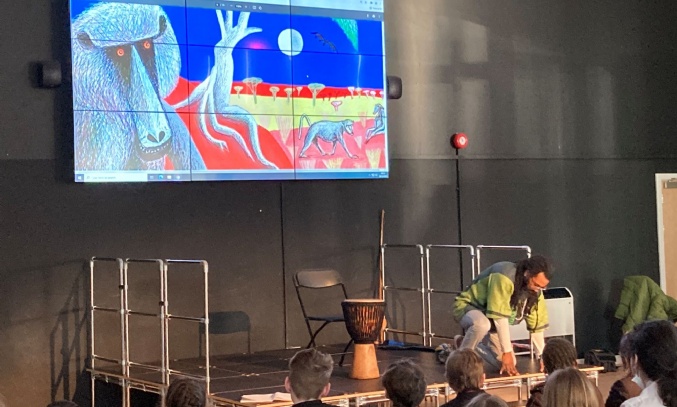 An immersive storytelling session for Year 7 was one of the highlights of the week
The Covid situation continues to present challenges. Case numbers in school are certainly reducing although they remain higher than we would want to see. We have re-introduced face masks for both staff and students during lesson transition and whilst indoors at break and lunch. Currently we have far too many students coming to school without a face mask; this means we are having to provide disposable face masks. The requirement to wear face masks in school is very unlikely to change in the near future. Indeed with the uncertainty over the Omicron variant I would expect us to remain wearing face masks outside of the classroom for some time yet. We know that disposable masks don't fit very well, break too easily and are poor environmentally since they all end up in the bin. Can you please ensure that wherever possible your child has an appropriate face mask that they can use both in school and outside of school. Thank you in advance for your support.
All secondary schools have been informed by the DfE that at the start of next term they will be required to carry out LFD tests on all students whose parents have given consent (and have not tested positive in the previous 90 days). Given the number of students we have that is no small task. Our aim is of course to minimise any disruption to learning. It is however inevitable that we will require some form of phased return. We are working on our plans at the moment and will circulate them to parents next week.
In light of the move to plan B this week schools have also been advised by the DfE to ask parents, guardians and other visitors to take a lateral flow device (LFD) test before entering the school. Thank you in advance for your support with this request.
Despite the Covid challenges lots is still taking place in school. Today 15 of our Year 8 students were taking part in a V&A Museum national competition with the challenge being to develop a way to help reduce the 14 million tons of waste that goes to landfill each year by turning it into a new product. The challenge followed on from the successful Art, Design and Technology element of the recent FLD. The students have already designed a range of ideas and today's sessions provided an opportunity to develop these further so they are ready for judging. The students' enthusiasm, creativity and problem-solving skills have been excellent, and we look forward to showing their finished entries soon.
Today also saw Year 7s treated to an amazing story-telling session delivered by Bristol based artist and storyteller, //Kabbo Hue Ferdinand. The session was delivered to complement the Immersive unit 'Welcome to Kisima' that the Year 7 students are currently studying. Its aim was to get the students interested in diverse cultures and their literature and finding the common thread in the lessons and teachings of the stories that are shared all around the world and passed down from generation to generation in different ways. These sessions were also aimed at exposing the Year 7 cohort to oral literature and the place and importance of performance as a way of maintaining and passing down culture. Thank you to //Kabbo and to Mrs Bennett for organising the session.
Next Tuesday sees the finale of our Big Sing with Year 7. The Year 7 tutor groups will come together under the musical direction of Mr Martin to perform their songs in front of a judging panel made up of experts from our Year 11 music group as well as me! The Year 7 students have thrown themselves into the challenge with great gusto and have entertained us throughout the term with their rehearsals. I know it will be a hard-fought competition but more importantly, a whole lot of fun.
This evening I have the pleasure of attending the Music Works to watch a concert performed by students from across the city's schools, part of their Youth Voice showcase. Representing Severn Vale will be Adele Smith and Emily Wadley. The Music Works is an amazing facility and one we are developing excellent links with. It also provides an amazing array of resources for young people with an interest in music outside of school. Their website is well worth a visit to see all they offer.
As always, I include my weekly reminder about Free School Meals eligibility. If your financial circumstances have changed, your child may be eligible for Free School Meals. If you click on this link you will find guidance on the eligibility criteria and the application process. It's a quick process and we are notified of all FSM entitlements by Gloucestershire County Council each Monday. I would urge you to take a look if you think you may benefit from financial assistance.
A reminder that school finishes next Friday 17th December at 12.40.
Have a great weekend.
Kind regards
Richard Johnson
Headteacher