Headteacher's Blog 18-2-22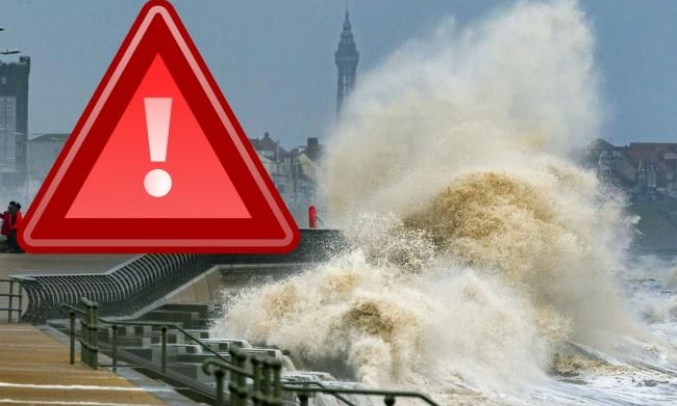 Storm Eunice brought a premature to the term
Well today is certainly a first for me; in 26 years of teaching I have never seen a storm warning like we had yesterday. It is never an easy decision to shut the school and I know it causes challenges for parents as well as further disruption to our students' education. However, when the advice from the authorities includes words like "risk to life" it becomes a very straightforward decision and one that has been taken almost universally across the county. One consequence of the school closure today has been the postponement of the collection organised for Gloucester Foodbank. Needless to say we will be rescheduling this to Term 4.
This week has seen our Year 9 students benefit from some taster experiences of lessons in GCSE subjects that will be new to them at KS4 as part of our Options information process. Our Year 9s get the choice of some 20+ subjects which should provide something for every student. A number of these subjects aren't studied at KS4 eg Health & Social, Media, Sociology so these taster sessions give the students the chance to find out more about them. We know that the more informed the students are, the better their choices will be. Full details about the options process are available on the school website here. If you or your child have questions about the process, please contact Mr Connor.
A further reminder that our KS3 students have their Order assessments upcoming. These take place in the week beginning 7th March as follows:
Monday 7th March – Year 7 Maths and Science
Tuesday 8th March – Year 8 Maths and Science
Wednesday 9th March – Year 9 Maths and Science
These assessments are an important part of ensuring that students are making progress in line with expectation in the core subjects. Full details of the topics covered and revision for all students has been set on Satchel 1. If you do have questions about these assessments please do contact Mr Ball.
The last week of term saw an abundance of fixtures including:
Year 8 girls football – the Year 8s took part in an excellent tournament involving schools from across the city hosted at Severn Vale this week. SV lost 1-0 to DRHS, won 3-1 against Crypt and won 3-0 against Churchdown, so finished second overall. Goal scorers were Elle x 3, Hannah x 1, Grace x 1 and Abbie x 1. Player of the tournament went to Grace Dyer.
Year 7 boys football - our Year 7s enjoyed their first fixtures against Churchdown this week. Our boys played three different games in very challenging conditions. The emphasis was on getting the boys active, playing and enjoying football and all 33 boys played brilliantly with lots of positive results. Alec Porter, Sammy Williams and Kieran Moore all led their teams with passion and positivity. We look forward to hosting Barnwood at home after half term, well done boys.
Year 8 boys football – our Year 8s lost a very competitive game against St Peter's 4-1. The scoreline didn't reflect what was a really close game in which both teams played really well. The man of the match went to Kaelen Venna.
Year 10 boys football – the Year 10s also lost a really tight game 1-0 to St Peter's. Man of the match Marley Johnson marshalled the defence superbly but a failure to convert the few chances offered by a strong St Peter's team saw the Year 10s go down.
Year 10 netball – the girls narrowly defeated Newent 7-5 on a close game. Chanelle Wood got player of the match.
Yea 11 netball - the Year 11s won 10-0 vs Newent. Shanai Mitchell got player of the match.
We have been given the details of an exciting opportunity via the organisation Girls Who Code. They are currently accepting applications for their free Virtual Summer Programmes. These provide eligible applicants with a choice between a 2-week introductory computer science immersion program or a 6-week self-paced experience. Aimed at 14 – 18 year olds it will provide an opportunity to:
Learn how to use HTML, CSS, and Javascript coding skills to make an impact on what matters to you.
Get an inside look into the tech field!
Join an international sisterhood of supportive peers from around the world and make lifelong friendships!
To apply click here. Applications are due by 18 March.
As always, I include my weekly reminder about Free School Meals eligibility. If your financial circumstances have changed, your child may be eligible for Free School Meals. If you click on this link you will find guidance on the eligibility criteria and the application process. It's a quick process and we are notified of all FSM entitlements by Gloucestershire County Council each Monday. I would urge you to take a look if you think you may benefit from financial assistance.
It has been a truly wild and windy day today!!! Let's hope for some more benign weather over the next week.
I do hope you enjoy time as a family over the half-term break.
We will see the students again on Monday 28th February. This is a week B.
Kind regards
Richard Johnson
Headteacher