Headteacher's Blog 11-3-22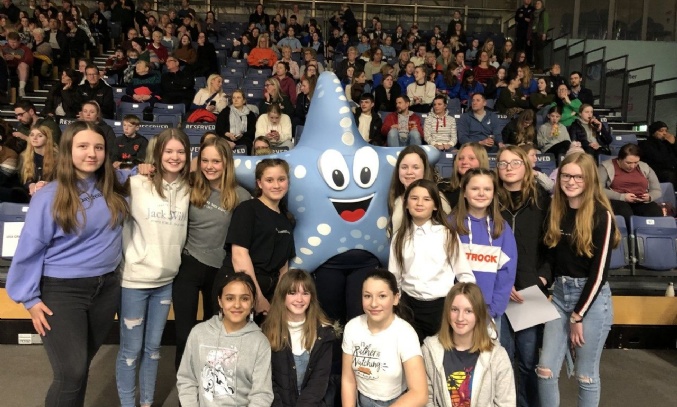 This week our netballers enjoyed trip to watch the Severn Stars netball team and also managed to get themselves on Sky Sports!
I'm sure that you, like I, have been watching in horror the events unfolding in Ukraine. The suffering of innocent people that we see in the haunting images on news bulletins and in our newspapers is enough to reduce you to tears. I have spoken to a number of staff and students who have asked what we as a community can do to provide support for the innocent victims. We are also in communication with a number of local primary schools to see if there is a coordinated response we can put in place. Further to this I have asked a member of our school staff with strong links in Poland to speak to charities and organisations working on the ground in Poland dealing with the million plus refugees who have arrived there over the past two weeks. I am hopeful we will have some ideas we can share with staff, students and parents in the coming weeks.
This week we had the pleasure of welcoming PC Manny Thind and ex-Severn Vale student PC Briony Southwood to Severn Vale. PCs Thind and Southwood are members of our local community policing team. I have been in contact with the local community policing team about the best ways to strengthen the links between school and the police. One outcome of this was PCs Southwood and Thind spending 3 days at school. They spent time in lessons meeting students. They also had the opportunity to meet students at break and at lunch. I am confident that the relationships they have developed with our students will help them in their community work and will also be of benefit to our students.
On Monday the PE department took 56 of our netballers to watch the Severn Stars play the Celtic Dragons at the Worcester Arena. A great night was had by all, with the students representing both themselves and the school superbly. In addition to watching the game and enjoying a visit to McDonald's, some of the students even managed to get captured by the Sky Sports' cameras! Following the success of the trip, the PE department are already planning to do the trip again next year!
This Friday 21 Year 9 students departed on our annual rugby tour to Swansea. The students will be playing two games across the weekend as well as watching a professional game on the Saturday afternoon. The first game will take place on Friday afternoon against Baglan Bae School. On Sunday morning they will take on a team from Morriston Rugby Club. We wish them luck in what will be tough games against strong opposition.
On the sporting front this week we had another round of fixtures including:
Year 9 football – our Year 9 team played St Peter's on Monday. In what was a great game against a team who have previously reached the national finals, the boys narrowly lost 5-3. Great credit must go to the boys for such a strong performance.
Year 11 football – our Year 11s played Churchdown in the District Cup. In what was a scrappy game, a missed penalty cost the boys a victory and the game ended 0-0. Man of the Match went to Sam Viner who, in his first game in goal, played superbly to keep a clean sheet.
Year 7 Netball – were defeated in a tough game at Henley Bank. Player of the match went to Molly Panting
Year 8 Netball – also went down against a strong Henley Bank side. Player of the match went to Maddie Reeves.
Year 9 Netball – both A and B teams were defeated against teams from Denmark Road this week. Both games were played in great spirits. Players of the match went to Lauren Lagan and Ava Clare.
As always, I include my weekly reminder about Free School Meals eligibility. If your financial circumstances have changed, your child may be eligible for Free School Meals. If you click on this link you will find guidance on the eligibility criteria and the application process. It's a quick process and we are notified of all FSM entitlements by Gloucestershire County Council each Monday. I would urge you to take a look if you think you may benefit from financial assistance.
I do hope you have a great weekend.
Kind regards
Richard Johnson
Headteacher