Headteacher's Blog 1-4-22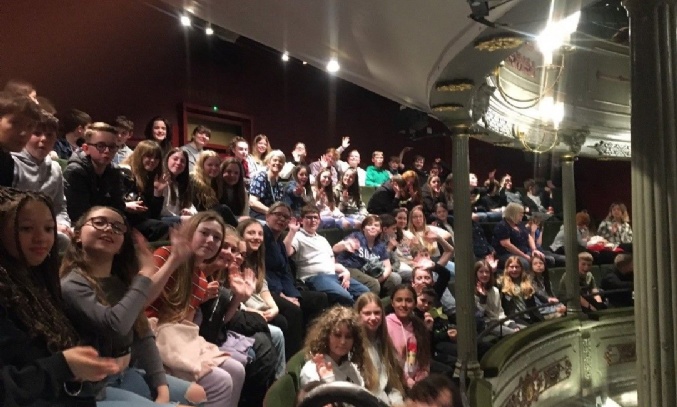 90 of our KS3 students enjoyed a fabulous trip to see a new production of Wonder Boy at the Bristol Old Vic
I haven't mentioned the Covid word for a couple of weeks but do need to pass on the details we have received regarding the move to the next stage of the Living with Covid plan announced this week. As you will be aware, from 1st April the national testing regime ends. That means there will no longer be free access to either LFT or PCR tests in the community. Schools have also been given clear guidance not to distribute tests to students.
Covid will now be treated like any other respiratory infection. In practical terms, the guidance from the DfE is that:
Any student who is unwell and has a high temperature should stay at home and avoid contact with other people.
They can return to school when they no longer have a high temperature, and they are well enough to attend.
Any student with a positive Covid test result should stay at home and avoid contact with other people for 3 days, which is when they are most infectious.
I am waiting on specific guidance which relates to Year 11 students and the summer GCSE exams. As soon as I have this I will pass it on to parents and students.
In a further sign of a return to normality, this week saw the first live music performances at school for over two years. Our Year 11 BTEC Music students organised and performed in a concert on Thursday evening. There was an eclectic mix of musical genres on display from classical piano to modern rap. It was a pleasure to watch the performances and to see the fruits of a lot of hard work from the students and staff over the last few months. Thanks to all who performed and the staff who ably supported them.
Last Friday the English department took ninety KS3 students to see the new production of Wonder Boy at the Bristol Old Vic. This eye-popping production is the tale of 12-year-old Sonny, who invents a superhero, to help him with his stammer. The production uses creative captioning projected onto the back wall, eye-popping, zingy neon, along with huge laugh-out-loud moments from the very first minute and also tender, tear-jerking scenes, keeping the whole audience thoroughly engaged throughout. The staff involved are looking forward to running similar theatre trips in the future now that Covid restrictions have ended.
On the sporting front this week fixtures included:
Year 7 Netball – the Year 7 girls participated in the District Tournament this week. They won 1 match and lost 3. Players of the tournament went to Lilly-Ann Carr and Grace Adeusi. Also this week over 50 girls participated in a club tournament at school. Every single player had an exemplary attitude and played some great netball. It was a delight seeing such high participation and enjoyment levels from a great group of girls.
Year 9 Netball - a huge​ well done to the Year 9 netball team who finished 3rd at the District Tournament this week, losing in the semi-finals to eventual winners Denmark Road. The girls played some incredible netball with wins against Kings, Ribston, Barnwood, Gloucester Academy and Denmark Road 'B'. This meant we finished 3rd out of all schools in Gloucester which is one of the school's best ever performances in netball, incredible! Players as voted by the team went to: Eva M, Lauren L and Ava
Year 7 Football – the Year 7 footballers took on Barnwood Park in the rain, snow, hail, and sunshine on Thursday. 35 boys participated in three games, all played in fantastic spirits with lots of goals in each.
Year 8 Football – our Year 8 team took on St Peter's in the final of the District Cup. In a great game the boys came back from 3-1 down to equalise 3-3. Unfortunately, a last-minute goal saw St Peter's win 4-3. It was a fantastic game played in great spirit by both teams.
Year 9 Football – our Year 9 team also took on St Peter's in the final of the District Cup. In a game against very strong opposition, the boys held their own in the first half before eventually going down 5-1. Mr Hunte wanted to make a point by mentioning the spirit in which our boys played which he described as "something special to watch and made me very proud".
In addition, Year 9 students Eva Moundene, Ava Herbert and Jasmine Blench have been invited to trial for the Severn Stars U17s Nova Academy. This is the academy set up for the Severn Stars of the Vitality Netball Superleague. Most girls that take part in this are Year 10/11s so for the girls to be asked to trial at the ages of 13/14 is amazing.
Huge congratulations also to Y9 Matt Penny who has been selected to represent and play waterpolo for the South West U16 team. He is playing beyond his years as the only 13 year old player on the team, training 7 nights a week. Amazing work Matt, well done!
As always, I include my weekly reminder about Free School Meals eligibility. If your financial circumstances have changed, your child may be eligible for Free School Meals. If you click on this link you will find guidance on the eligibility criteria and the application process. It's a quick process and we are notified of all FSM entitlements by Gloucestershire County Council each Monday. I would urge you to take a look if you think you may benefit from financial assistance.
Finally, thank you to the many families who have donated colouring books as part of the Quedegely Schools collection for Ukraine. This will be on their way to Poland next week and will hopefully bring some joy to the children who have been displaced as a consequence of the terrible events in their country.
The fine weather of a week ago seems like a distant memory. I do hope you enjoy the weekend despite the chill!
Kind regards
Richard Johnson
Headteacher