Headteacher's Blog 13-5-22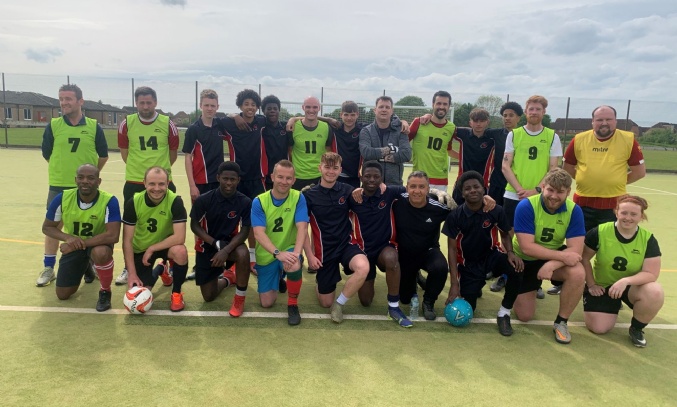 A staff vs Year 11 football fixture was amongst the highlights this week.
Another week draws to a close. For our Year 11 students next week sees the start of their GCSE exams. This is the first time we have had a full GCSE season since 2019. Overwhelmingly the students are responding positively to the undoubted challenges this presents; they are working hard and utilising the fantastic support available to them from their class teachers.
The next 5 school weeks will be hard; there are weeks when they will have a lot of exams. I have every confidence our Year 11 students will rise to this challenge and deliver on their undoubted potential. I know you will want to join me in wishing them the best of luck in their forthcoming exams.
We know that since the end of the initial Covid lockdown school attendance has been significantly lower. That is not just a Severn Vale phenomenon, it is something that has been seen across the country. We also know that those students with lower attendance do on average achieve significantly lower than those with good attendance. The latest statistics from the DfE make that very clear: the absence rate for those students who didn't achieve a grade 9-4 was double that of students who achieved a grade 9-5. That comes as no surprise. If a student misses school it is clearly going to have a negative effect on their learning.
Recently we have seen a significant rise in requests for term-time holidays. Our position on these requests is clear. We are only able to grant a leave of absence in exceptional circumstances. This means it is highly unlikely that we are able to grant a request for a family holiday. Unfortunately that does mean that fines will be issued in the case of an unauthorised holiday. After a period in which students have been forced to miss school due to Covid, we do need to do everything we can to ensure students are in school every day they can be. Thank you in advance for your support with this vital part of our work.
In school this week our Year 9 students took part in an enterprise competition. Working in teams of 5-6 they were tasked with coming up with an idea of how best to utilise a piece of land on the Severn Vale School site to benefit students. Each group had an outside mentor who guided and advised them and helped them produce a final sales pitch which they presented to a judge at the end of the day. Points were awarded for the team who worked best together to decide what they would like to do with land; how they would source materials or products; what the project cost would be and how well they presented their findings to the judge. The overall winners were Group 3 from Tuesday's event: Phoebe Adshead, Kirsty Beattie, Nathan Hayward and James Wallis. Congratulations to them and to all the students who really embraced this challenge.
The highlight of the sporting week was the Staff vs Year 11 football match that took place on Monday. The game was played in an excellent spirit and was for the first half a close contest. Indeed the staff even managed to edge 2-1 ahead at the start of the second half. That seemed to shock the Year 11s into action and their superior fitness and skill saw them pull away for a well-deserved 8-3 victory. Thanks to all the players on both teams for making this such an enjoyable game.
On Saturday the Music Works are staging a concert as part of the Polish Heritage Event taking place in Kings Square. I'm pleased that a number of Severn Vale students will be taking part in the G15 Choir performing on Saturday afternoon. Having seen some of their previous performances I know how good the G15 choir are. It will be well worth a visit of you are at a loose end on Saturday afternoon.
As always, I include my weekly reminder about Free School Meals eligibility. If your financial circumstances have changed, your child may be eligible for Free School Meals. If you click on this link you will find guidance on the eligibility criteria and the application process. It's a quick process and we are notified of all FSM entitlements by Gloucestershire County Council each Monday. I would urge you to take a look if you think you may benefit from financial assistance.
Have a great weekend.
Kind regards
Richard Johnson
Headteacher