Headteacher's Blog 10-6-22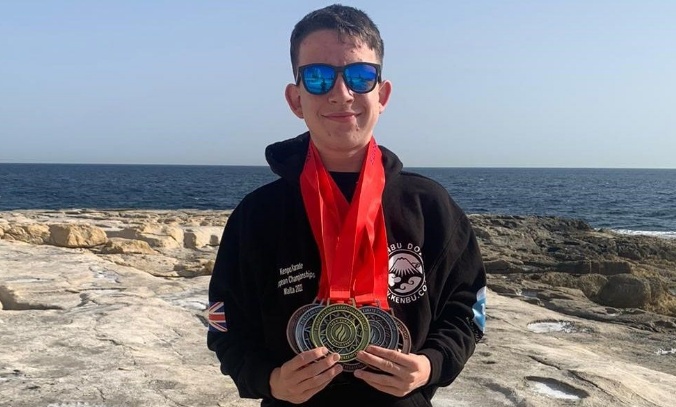 This week we celebrated the success of Year 9 student Gabriel Huckson in Year 9 who recently competed successfully for Team GB in the Kenpo Karate European Championships in Malta
It has been a pleasure welcoming the students back after the Jubilee half-term. For our Year 11 students it has been very busy start to the term with key exams every day of the week. There are still two weeks of exams to go in what is an elongated exam series this year due to Covid. This is a challenge for the students and is a real test of their stamina. Overwhelmingly they are coping well and rising to the challenge in the ways we would expect.
Seeing the pressures and challenges that our students face during the exam season has provided the impetus to look at ways we can provide support for our current Year 10 students who will be sitting their GCSEs in less than a year's time. One project we have been working on is a mentoring support programme with Sixth Form students from Ribston High. This will see Sixth Form students from Ribston mentor and support a cohort of students in our current Year 10. The aim is to use students who have recently been through the GCSE process to offer advice and support to our Year 10s and provide them with strategies for both studying and managing their well-being. This week we welcomed the Head of Sixth Form to Severn Vale to work on developing our joint plans. He met students from Severn Vale with a view to launching the programme in the very near future. He was also joined by the Head Girl at Ribston – Ayesha Diallo, a Severn Vale student from the class of 2021. It was great to see Ayesha and to congratulate her on this fantastic achievement; we all knew she would go on to great things!
On the sporting front there have also been some amazing successes to celebrate. Congratulations go to:
Gabriel Huckson in Year 9 who recently competed for Team GB in the Kenpo Karate European Championships in Malta. In what was a hugely successful event for Team GB, Gabriel won an amazing 4 bronze, 2 silver and one gold medal. We are all hugely proud of Gabriel's fantastic achievements.
Fin Williamson in Year 10 who won the County 2 Wood Bowls Competition last Sunday booking his place at the National Finals to be held in Leamington Spa later in the year. This makes Finley the youngest ever winner of this event!
A number of school fixtures this week have fallen foul of the weather with a series of biblical showers leading to the cancellation of games and tournaments. A couple of fixtures did manage to survive including:
Year 7 rounders – the girls came out victorious in a closely fought match against The Crypt on Monday. Player of the Match went to Millie S
Year 9/10 cricket – our 'All Stars' cricket team (a mixture of Year 9 and 10) played their first ever cricket fixture against Bournside school. The boys were magnificent and edged a tense game by just 4 runs! Pick of the batters was Mohammed, who smashed 3 huge sixes in his 29. The bowling attack was spearheaded by Dilawar, who took 2 wickets in three balls with his searing pace, and Kamran, who held his nerve in the final over.
A reminder that next week sees the Year 9 parents evening take place. That means on Tuesday 14 June school will finish at lunchtime.
As always, I include my weekly reminder about Free School Meals eligibility. If your financial circumstances have changed, your child may be eligible for Free School Meals. If you click on this link you will find guidance on the eligibility criteria and the application process. It's a quick process and we are notified of all FSM entitlements by Gloucestershire County Council each Monday. I would urge you to take a look if you think you may benefit from financial assistance.
Hopefully the weekend will bring some more settled weather as so far, we could hardly describe it as flaming June! Whatever the weather, I do hope you enjoy it.
Kind regards
Richard Johnson
Headteacher