Headteacher's Blog 24-6-22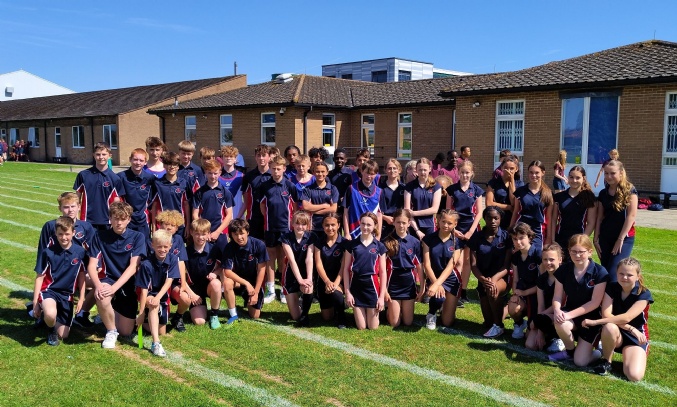 A fabulous athletics meet versus Holmleigh Park was one of the many highlights this week
This week we bid a fond farewell to the class of 2022. On Thursday they completed their last GCSE and enjoyed their Leavers' Assembly. Tonight they will get to celebrate at the Hatherley Manor Hotel for their Year 11 Prom, the first time we have been able to hold a Prom since 2019.
It has been a pleasure working with this group of students. They have faced up to the many challenges of the past 3 years with determination, resilience and humour. I have every confidence that as they leave Severn Vale they have the foundation to go on to make their mark in whatever it is they choose to do. We all wish them the very best in all their future endeavours.
As one set of exams finish another set start with students in Years 7 – 9 taking their Order C Assessments next week. The students are preparing well for these exams in lessons as well as before and after school. A reminder they are happening as follows: Year 7 - Tuesday 28th June; Year 8 - Wednesday 29th June; Year 9 - Thursday 30th June. I wish them well in these assessments and look forward to congratulating those that have demonstrated excellent progress and/or achievement.
A group of our Year 9s have been participating in a project with Bridge Youth Services over the past 2 months. Within the project the group were tasked with identifying an activity they could organise and run as a group. The students chose to run a foodbank collection. They have created all of the posters displayed around school, have written the emails to staff and students and have organised all the logistics. It has been an excellent effort by the students for a very worthy cause. If you were able to support them by getting your child to bring an item in next Tuesday or Wednesday that would be greatly appreciated.
On the fixture front:
KS3 Athletics - On Monday evening we held a KS3 Athletics Meet against Holmleigh Park. It was a fantastic event and a pleasure to see our students taking part in a real competitive environment. Events included the 100m/200/800m and the relay. All our athletes performed brilliantly on the evening, but special mention goes out to William Burnett in the 800m, Grace Adeusi in the 100m and the Year 8 Relay team for outstanding performances.
Year 7 Rounders – both the Year 7 A and B teams lost close games against St Peter's this week. Players of the match went to Kacee Parker and Millie Snell
Year 8 Rounders – the Year 8 A Team emerged victorious in their recent game versus St Peters. They secured an 11.5 - 8.5 victory with Amy Northmore nominated as Player of Match.
Year 8 Rounders – the Year 8 B Team also emerged victorious in their game versus St Peters. They secured a 14 - 9 victory with Daisy and Simeera Reynolds nominated as Players of Match.
Year 8 Cricket – the boys won comfortably against Gloucester Academy on Tuesday evening. Notable mentions to Jo Amankwah, Mason Fawlk and Josh Moroney. The whole team played really well as they have all season. This in large is down to their amazing Team spirit!
Year 9/10 cricket – the Year 9/10 cricket team made it two wins from two in a hard-fought game against Crypt. Half-centuries from Henry Driver-Dickerson and Dilawar provided the foundation for a score of 133 which the Severn Vale team defended with some excellent bowling.
As always, I include my weekly reminder about Free School Meals eligibility. If your financial circumstances have changed, your child may be eligible for Free School Meals. If you click on this link you will find guidance on the eligibility criteria and the application process. It's a quick process and we are notified of all FSM entitlements by Gloucestershire County Council each Monday. I would urge you to take a look if you think you may benefit from financial assistance.
A reminder that Monday 27th is a staff Inset day. The students return to school on Tuesday 28th June.
Kind regards
Richard Johnson
Headteacher