Headteacher's Blog 11-11-22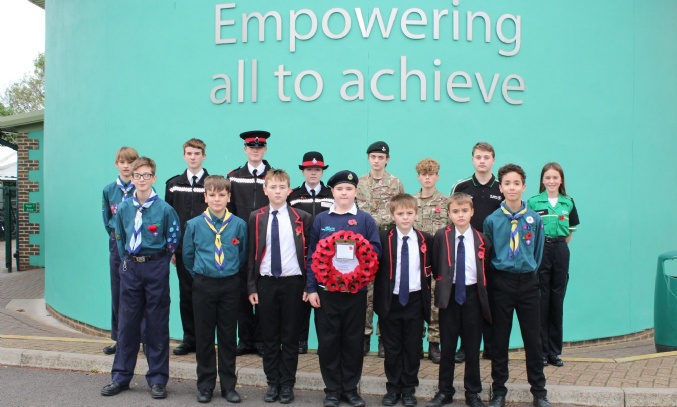 Armistice Day was marked by students from uniformed youth groups taking part n the annual Remembrance Day service at St James' Church.
Today we commemorated Armistice Day with students from the uniformed services taking part in the annual Remembrance Day service at St James' Church. The rest of the school marked the day with a silence at 11.00am which was impeccably observed.
This week saw students from our Year 10 Politics group head to London to visit Westminster and have a tour of both the House of Commons and the House of Lords. After a tour of Parliament, the students took part in a workshop run by the parliament education service, where they explored the making of laws in this country. The day finished with a Q&A session with our local MP Richard Graham where he impressed upon the students the importance of exercising their right to vote when the time comes. As always, the students were a credit to the school, with their tour guides commenting on how extremely knowledgeable and informed they were. Something that comes as no surprise to us! 
It has been Assessment week for all students in KS3 and for our Year 11s. This is a busy week with all exams run in the Sports Hall in full GCSE-style. This gives the students the chance to experience how exams operate and will hopefully demystify the process. The exams have run very smoothly and overwhelmingly the students have responded very positively. Their teachers are now busy marking the assessments in readiness to use them to inform future teaching.
As part of our ongoing support for our students' mental health, we are delivering a workshop next Thursday morning that will link up our students with digital health services and routes to online counselling should they decide they need this. We will be using an interactive show called On The Level to help equip students to manage their mental health and improve their well-being. They will learn about the online support finder called On Your Mind Glos as part of this learning experience. We delivered this workshop last year and the feedback from the students was very positive. As the programme is interactive it would be helpful (but not essential) for the students to have a mobile phone with them. If you have any questions about On The Level, please contact Mrs Littlegray.
There have been a number of fixtures this week including:
The Year 7 girls football team drew 1-1 with Holmleigh Park. Player of the match went to Teanna Mnotoza

The Year 8 girls football team lost 4-2 to Churchdown. Player of the match went to Shanti Kell.

The Year 9 boys football team won their ESFA 3rd round cup match away to Kingstone School in Hereford. The score was 4-1 with 2 goals from Will Hine, 1 from Luke Roberts and 1 from Man of the match Kaelen Venna.

The U16 girls football team played Gloucester Academy on Thursday, winning 12-0. There were hat-tricks from Holly Ennis and Elle Moroney. Player of the Match went to Leilani Ryder

The Year 7 girls hockey team lost 4-0 to Newent in their first game. Player of the Match went to Teanna Mnotoza

The Year 8/9 girls hockey team won 2-1 against Newent. Player of the Match went to Millie Snell

The Year 7 girls hockey team lost 2-1 St Peters. Player of the Match went to Teanna Mnotoza

The Year 8 girls hockey team lost 2-0 St Peters. Player of the Match went to Millie Snell.

This week also saw the District Cross Country take place at Plock Court. There were a number of standout performances including 5 of the Year 10 team finishing in the top 20 of the combined Y10/11 category with Will Burnett finishing 5th.
As always, I include my weekly reminder about Free School Meals eligibility. If your financial circumstances have changed, your child may be eligible for Free School Meals. If you click on this link you will find guidance on the eligibility criteria and the application process. It's a quick process and we are notified of all FSM entitlements by Gloucestershire County Council each Monday. I would urge you to take a look if you think you may benefit from financial assistance.
I hope you have a fabulous weekend.
Kind regards
Richard Johnson
Headteacher