Headteacher's Blog 3-3-23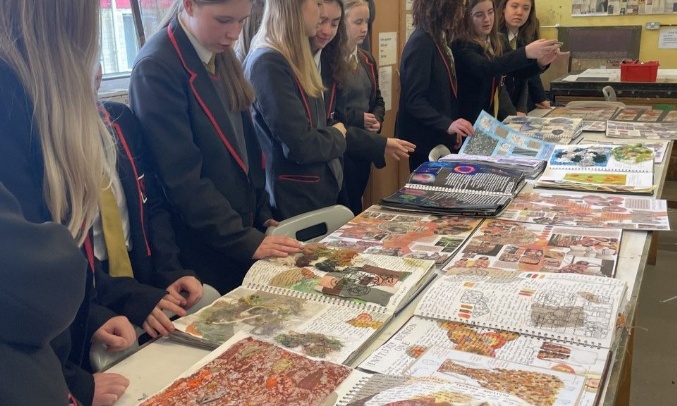 This week saw a group of our Year 9 students visit Cirencester College to explore post 16 options in Art and Design
It was great to welcome the students back to school after the half-term break. Clearly it was unfortunate for this first week of the new term to be disrupted by the ongoing industrial action. I can only hope that this disruption across the country can provide the stimulus needed to seek a resolution to this issue. We know that there are a further two days of strikes planned for 15/16 March. It would be great to have some progress on this so that those strikes could be averted.
Term 4 will only be a short term but it is sure to be a very busy one. Next week sees our Year 11 students tackle their second core mock week. With important exams in English, maths and science it will be a challenging week for the students. It will though provide the students and their teachers with incredibly valuable information on where they are in the learning journey and what they need to be doing in the last 2 months before the GCSE exams proper begin.
For our KS3 students next week will also see Order assessments. These are the assessments all students complete in English, maths and science to ensure that appropriate progress is being made in these key subjects.
Next Thursday sees the Options Evening for Year 9 students take place. This in-person event will give parents and students the chance to talk to key staff to help finalise their options choices. Full details have been sent out to parents. If you do have any questions please contact Mr Connor.
This week a group of our Year 9 Textiles students went to Cirencester College to give the students a broader understanding of what is involved in studying a creative subject post 16. The students were able to view some of the fantastic work produced at Cirencester; ask questions about where studying a creative subject might lead you in the future; see the excellent facilities and take in the atmosphere at the college. Whilst there, they also bumped into a few former SVS students who have clearly settled into college life well!
It also saw fixtures including:
Year 7 Netball – both A and B teams had fixtures versus St Peter's this week. Both schools played some fabulous netball. The A team continued their great run of form with a 9 – 5 victory. Bianca was player of the match. The B team went down 2 – 0 with Charlotte awarded player of the match.
Year 9 Netball – both the A and B teams had fixtures versus Denmark Road this week. Both teams had some excellent play in not very pleasant conditions! The A team lost in a close game, Macey M got player of the match for her fantastic movement and shooting. The B team also lost, with Hannah M getting player of the match for her excellent defending. The Year 9s also played Gloucester Academy, beating them 8-3 in match played with so much energy and enthusiasm. Macey M was again voted as player of the match.

Year 10 football – the Year 10 boys faced an outstanding St Peter's team in the District Cup on Tuesday. Despite a battling performance and taking an early lead, the boys eventually went down to a 6 – 1 defeat.
Year 10 Netball – the Year 10 netballers continued their great form this season with another convincing victory, beating Churchdown 21-1 with Ava H getting player of the match.

U16 Football – Our U16 girls football team played in the County Football finals at Cirencester Town FC on Monday. The girls won 3 of their games and drew 2 to finish second in their group. They then played in the 3rd place play-off and narrowly missed out losing 1-0. This is still a fantastic achievement as they finished 4th in the County from 44 schools that entered. Dotty A was the star of the show playing in goal and was unanimously voted as player of the tournament by her team mates.

Year 11 Netball – The Year 11B team lost to Churchdown 21-7 with Tori P getting player of the match.
Congratulations also go to Year 11 student Keira Wood who has been excelling in Gloucestershire's England Rugby Developing Player Programme. Her progress has been exceptional and she will once again be playing for the Gloucestershire South team in an upcoming RFU tournament.
Last term students in Year 9 and 10 took part in the UK Maths Trust's Intermediate Maths Challenge. This aims to encourage mathematical reasoning, precision of thought, and fluency in using basic mathematical techniques to solve interesting problems. The problems on the Intermediate Mathematical Challenge are designed to make students think and are certainly very challenging. Congratulations go to the following students who achieved a Silver Certificate:
And to the following students who achieved a Bronze Certificate:
Sam B

Lauren C

Daisy J

Dylan N

Daniel P

Luke R

Jess S

Sam T
The following students also deserve a huge pat on the back for their fabulous revision efforts. They have been identified as the top revisers on MathsWatch in February in their Year:
Year 7 – Nathaniel C

Year 8 – Charlie B

Year 9 – Annabelle E

Year 10 – Gracie W

Year 11 – Dilawar O
A further reminder that a recent analysis showed that approximately 10% of those who are entitled to Free School Meals are not currently taking advantage of this scheme. If you think your child may be eligible for Free School Meals you can click on this link to find guidance on the eligibility criteria and the application process. It's a quick process and we are notified of all FSM entitlements by GCC each Monday. I would urge you to take a look if you think you may benefit from financial assistance.
I do hope you have a great weekend.
Kind regards
Richard Johnson
Headteacher