Headteacher's Blog 31-3-23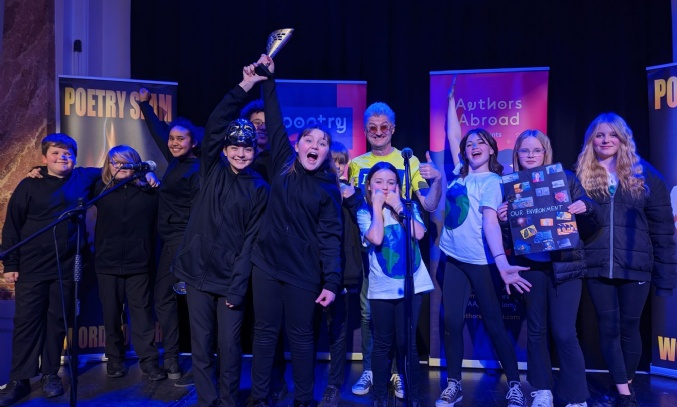 It was third place for our Year 7s in the recent Gloucestershire Poetry Slam at Cheltenham Town Hall
A short but intense term draws to a close today.
This term has unfortunately been impacted by the industrial action called by the NEU. On 3 days we were forced to restrict attendance to school. We did make sure that our Year 11s were in school every day. All other year groups were equally impacted.
I had very much hoped that the talks between the teaching unions and the DfE would be constructive and that a resolution to the current dispute would have been found. Unfortunately, that does not seem to be the case and the potential for further disruption after Easter is very real. That is clearly very disappointing. As soon as we have further information I will ensure it is passed on.
On a more positive front, this term our Year 11 Health & Social Care students took part in a St. John Ambulance first aid training session. This was part of their RO31 first aid coursework unit. The session was conducted by Severn Vale's own Mr Higgs who has volunteered for St. John Ambulance for over 20 years. Students were taught how to recognise and treat a wide range of injuries, including: CPR, the recovery position, bleeding, and shock. Students then had the opportunity to practise some of the skills they learnt throughout the afternoon. These are such valuable skills that these students can take with them throughout their lives. Thanks to Mr Higgs and the Ms Stead for organising the sessions and to the students who engaged so positively.
On Tuesday evening, two groups of Year 7 students had the opportunity to perform at The Gloucestershire Poetry Slam competing with schools across the county at Cheltenham Town Hall. The Bracket Rackets and The Repetition Rascals were selected as the two winning teams after a poetry workshop day with renowned poet, Spoz. Both teams performed with confidence and passion in front of a room of 100 people including teachers, parents, fellow competitors and three judges. The Bracket Rackets secured third place in the competition, taking home a very impressive trophy! I know the whole English Department is extremely proud of both teams and the dedication they have demonstrated towards the competition.
This week has also seen the next of our Music performance platforms. These are a great opportunity for our students to develop their musical performance skills in front of a small open or an exclusive audience of just their close friends. Over the week we have seen a wide range of performances including a Year 7 girl band, solo pianists, a solo flautist, plenty of solo singers, school band and rhythm ensemble. Mr Martin and Miss Newport have been very impressed with our keen Year 7 and 8 musicians, their readiness, enthusiasm and performances and student audience rapport has been fantastic. Next term's platforms might even have a theme to them (watch this space for more information!)
Last weekend saw the Year 9 rugby tour to South Wales. The boys enjoyed a great weekend taking in two games and a range of other activities, including a river gorge walk in Glynneath. The games were challenging and ended in two tight defeats. The attitude of the boys all weekend was superb and the feedback from the staff glowing. Thanks to all who gave up their time to enable this tour to take place.
In further sporting news, congratulations to Zane Hunt in Year 10. He recently competed in the regional championships winning the gold medal and so is now the South West Tumbling Champion. This is all the more impressive as he was competing in an older age category. He moves on to the English Tumbling finals in Telford in June. We wish him luck for these national championships.
In the first week of Easter 45 Year 11 students and 5 staff depart on the History Trip to Berlin and Krakow. They will be visiting places like the Reichstag building, the Brandenburg Gate, the Olympic Stadium and the Berlin Wall as well as memorials in Berlin to those who lost their lives to the Nazi regime. Included in the trip is a full day visit to the Auschwitz-Birkenau Concentration Camp followed by dinner at a Jewish restaurant. The final day in Krakow will see the students meet with a Holocaust survivor. I know this will be an incredibly moving experience for the students and one that will stay with them for years.
A reminder that a recent analysis showed that approximately 10% of those who are entitled to Free School Meals are not currently taking advantage of this scheme. If you think your child may be eligible for Free School Meals you can click on this link to find guidance on the eligibility criteria and the application process. It's a quick process and we are notified of all FSM entitlements by GCC each Monday. I would urge you to take a look if you think you may benefit from financial assistance.
I do hope that you and your family enjoy a great Easter break.
School returns on Monday 17 April. It will be a week B
Regards,
Richard Johnson
Headteacher