New York 2016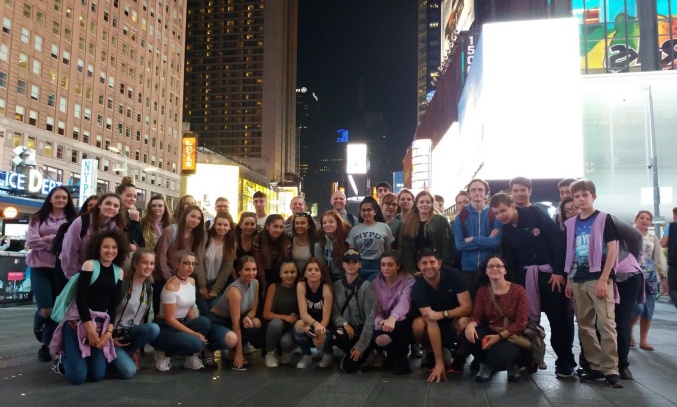 34 Year 11 students and 6 members of staff took part in a highly successful and exciting tour to New York during October half term.
The trip was a cultural expedition for students of Art, Media, Sociology and Politics and excursions were made to places of significance for the four subjects as well as broadening students' awareness of the world and life in a different country and culture.
Highlights included:
A morning spent at the 9/11 Memorial and Tribute Centre where students were privileged to hear a personal account from a woman who lost her husband in the South Tower on 9/11. She explained the significance of that day and the aftermath for her and her daughters. It was a highly emotional and deeply profound experience. The students listened to her story and toured the centre and memorial with the utmost respect for the enormity of the 9/11 attacks impact on the city, country and the world. Their maturity and empathy were outstanding.
A cruise across the bay on the Staten Island Ferry past the Statue of Liberty and Ellis Island followed by a walk through the financial district and the famous "Wall Street" stock exchange.
Evening meals in Times Square taking in the wonderful, vibrant and often bizarre sights, smells and sounds of one of the busiest areas of any global city. The group also enjoyed a trip up the Empire State building on one evening where Photography students (and others!) took wonderful panoramas of the city at night
Sociology and Politics students toured the Lower East side learning about the impact of large scale immigration on the cultural make-up of the city and country then, along with the Media students, walked through the West Village taking in the Stonewall Inn and the sets of various TV programmes such as Sex and the City and Friends
Art students spent a morning at the Museum of Modern Art and were able to photograph and sketch some of the world's most famous pieces of artwork before joining the rest of the group to walk the "High Line" which is a raised walkway and park following abandoned railway lines above the city streets.
The trip was an out and out success thanks to a dedicated (albeit slightly shattered!) group of staff and 34 amazing students whose behaviour and engagement in such an intense and immersive experience was a credit to themselves, their families and the school. Roll on New York 2017!