Discovering the Korean War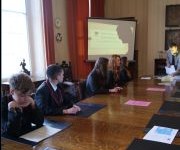 On Wednesday 23rd October 2013 twelve Year 8 and Year 9 students spent an enjoyable morning at the Soldiers of Gloucestershire Museum to find out about the Korean War.
The trip was the first phase of a project to commemorate the 60th anniversary of the end of the Korean War. Students will also be involved in an oral history project to record the voices of veteran soldiers and will produce a piece of art work that will hang in the museum coffee shop.
The day started with a tour of the museum which finished in the Korea room. Here students were able to find out more about the role of the Glorious Gloucesters in the war and what it was like to be a prisoner of war.
Next students discussed the type of questions they might think about asking the veterans and top tips for interviewing. The trip finished with a return to the Korea room to get a closer look at artefacts.
The students thoroughly enjoyed their experience and are looking forwards to meeting and interviewing the veterans in Term 2.