Foodbank collection for Christmas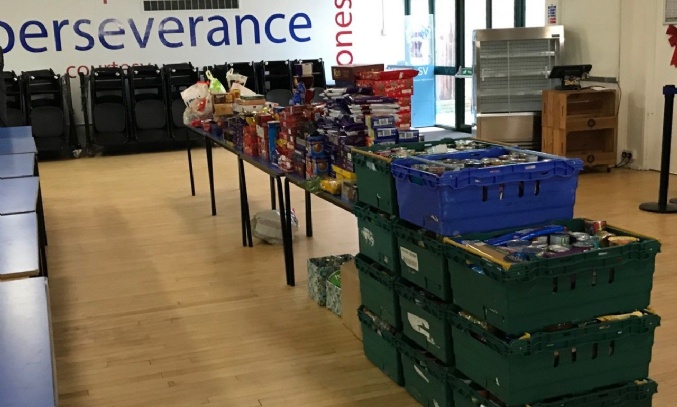 We are so humbled to see the amount of food donated by Severn Vale students and staff for our Christmas Foodbank Collection
At Severn Vale School one of our core values is compassion. When you feel compassion for someone, you really want to help out. With this in mind on Friday 13th December the students of Severn Vale turned out en mass to support Gloucester Foodbank. Pretty much every one of the 1250 students donated and whilst students were asked to bring in a single item each, many arrived laden with bags full. The collection area in the hall was absolutely packed, to the point that the foodbank had to make several trips, having only just emptied the hall by lunch!
What was particularly lovely to see was that many students had gone out to specifically buy selection boxes and other such treats to make sure other children would get more than just the staples this Christmas. This act of going above and beyond is something we have come to expect from our students but it is always heart-warming to see, especially at this time of year.
The Gloucester Foodbank is part of The Trussell Trust's network foodbanks, working to tackle food poverty and hunger in our local communities, as well as across the UK. In 2018/19, The Trussell Trust's Foodbank Network provided 1,583,668 three-day emergency food supplies and support to UK people in crisis. Of these, 577,618 went to children. In the sixth richest country in the world nobody should need to use a foodbank. Research published in 2017 found there were over 2,000 UK food banks. By contrast there are 1229 McDonald's!
Christmas is supposed to be a time of joy and celebration – but for too many people it's becoming harder and harder to keep their heads above water. This Friday our students proved that a collection of small actions can make a huge difference. We are extremely proud of every one of them.
Mr Johnson
Headteacher