Salvation Army Christmas Gift Drive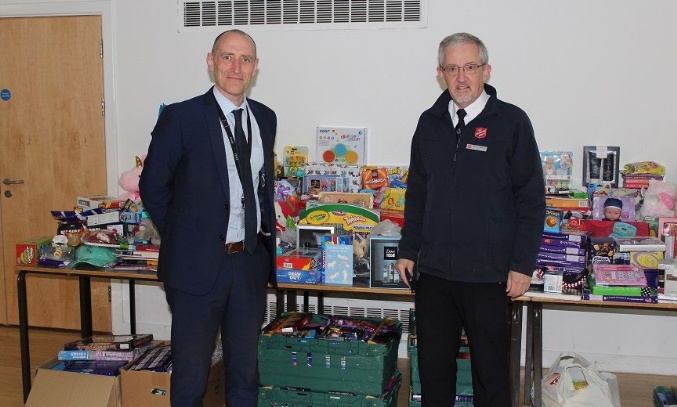 Students and their families provide hundreds of gifts to those in need
The Christmas Cavalry is coming. That's what Boris said. A vaccine is on the horizon, shops are soon to re-open and our families can reunite for Christmas. For many, this glimmer of light hints at the end of the tunnel. But we're not daft. We know we're not there yet. And whilst Christmas can be a time of hope and joy for so many, for others it's a painful reminder of all they don't have.
Many families are facing the prospect of Christmas without those they love. Many are dealing with the impact of redundancies, zero hours contracts or a salary reduced to 80%. But your kids aren't eating 20% less, the bills haven't gone down by 20%. Your income has stopped but life hasn't. It's tough. We know this.
And yet, at this time of unprecedented hardship your generosity has shone through. This term we asked our students and their families to step in and help those in need and did you ever!
Every year the Salvation Army put together gift and food hampers for those families that may otherwise struggle to cope over Christmas. This year we decided to team up with them and see if we could make Christmas that little bit more special. The call went out to students and their families, asking them to buy one extra gift for those without, and the response was amazing!
Over the course of a week students brought in over 700 gifts. Even at a time when year groups were learning from home, families were getting in touch asking how they could make sure they still got to contribute. Your response has been truly humbling.
Christmas is about so much more than gifts. It's a time to extend love to our neighbours, to rejoice in our shared humanity, to bring a message of hope, and that's exactly what you've done. On behalf of those families you have helped I'd like to extend my warmest, heartfelt thanks. You've made a difference to children and parents you'll never meet and should feel truly proud.
Thank you.
Mr Hockaday