Severn Vale students get the chance to perform alongside the Multi-Story Orchestra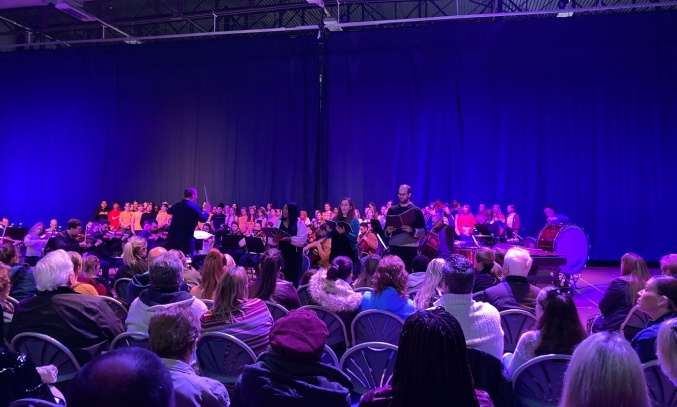 Our students recently performed alongside the Multi-Story Orchestra in a fabulous performance of Our Future In Your Hands
25 of our students from Years 7 – 11 had the unique opportunity to perform with 3 other schools and the Multi-Story Orchestra in a performance of Our Future In Your Hands.
Our Future In Your Hands was inspired by the seismic global youth movement against climate change, championed by Greta Thunberg. It is an epic piece imagining the world recovering from climate change and being reborn again in the future – and an optimistic vision that we think we all need at the moment!

There are two choirs – one representing the voice of anger and protest, and one the voice of future optimism and change. The three soloists portray an astronaut, looking down to Earth from space and seeing the world as a whole for the first time, a man deciding whether or not to have a child, and a woman struggling to find water and survive in an apocalyptic future. Through their stories and the choir's protest songs, the piece takes us on a journey from terror and destruction to the imagining of how the world could be if we survived and recovered.
The event was organised by Strike a Light, a Gloucester-based organisation striving to make Gloucester a city with a vibrant culture for all and took place at GL1 which was transformed for the evening into a music venue.
For the students this was a great chance to perform alongside a professional orchestra. Thanks go to Strike a Light for including Severn Vale School in this performance and to the Music department and in particular Mr Khokher for supporting the students through the auditions and rehearsals.
Hopefully this will be the first of many performances in conjunction with Strike A Light.