Severn Vale Rugby Tour 2022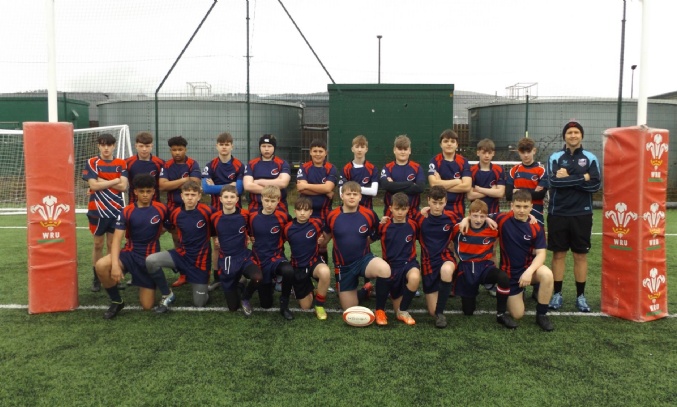 We were all very excited to finally get away on our long-awaited rugby tour. All our kit had arrived and looked fantastic; a big thank you to Sarah Sharpe for the design and Monster Clothing for the shirts and training tops.
We arrived in a very wet Port Talbot where the rain was coming down like stair-rods!! With the billows of smoke and steam coming out of the Steel Works surrounded by dark clouds one of the students asked 'is this where they filmed Middle Earth from the Hobbit Sir?'
With little time to warm up due to traffic on the M4 the boys were straight into battle in their first game against Baglan Bae School. We played some great rugby in what were challenging conditions. The boys won 42-9 with standout performances from Henry Driver-Dickenson, Joe Williams and Josh James. Ethan Ash-Tighe was also a constant threat from start to end.
After the game we set off to check into the hotel and the excitement grew when rooms were called out and boys found out there was a TV and bathroom in their room. We set out for our evening meal at Nines Global Buffet where the students enjoyed a range of food from around the world. I have never seen so much yellow food eaten in my life. Some of the boys were a little confused with some of the fruit and vegetables available and quickly walked past shaking their heads. The boys certainly got their money's worth that evening!
After a restful first evening we were up early for breakfast which the boys enjoyed again. It was then off to Laser Quest. They kindly opened an hour early for us so we had the place to ourselves and the boys and staff thoroughly enjoyed it. After the buffet and breakfast Mr. Higgs wasn't fussed on running about so he tried to take up a sniper position but it backfired when everyone spotted him and pinned him in the corner.
After Laser Quest it was off to watch a Welsh Premiership game in the afternoon between Aberavon and Carmarthen Quins where the boys got to experience some authentic Welsh club rugby before the famous Welsh weather turned on us. We got back to hotel so the boys could watch the England Ireland game before heading back out for food that evening.
We were up early Sunday morning and headed off to Morriston Rugby Club for our final game before heading home. I knew we were in for a tough game, but I think the pace and physicality shocked some of our boys, but they didn't give up and dug deep which is all I can ask for. We played three twenty-minute games, the first losing 5 tries to nil, the second losing three tries to nil and the last twenty-minute game we drew one try all. I believe we learn a lot more about ourselves playing games like that than hammering teams. Big thanks to Mr. Johnson who comes down every tour to watch the boys on the Sunday, always encouraging the boys from the sidelines.
As always, the welcome in the club was brilliant, food was laid on and speeches given by both captains. Henry Driver Dickenson was voted players player by the opposition and special mentions to Ethan Ash-Tighe, Josh James and Alfie Smith for their constant work rate.
This is the fourth tour I have had the privilege to take our school teams on and each I love to see how much the boys enjoy going away together to a new place and playing against teams outside their regular fixture list. I hope these memoires will stay with the boys long after they finish Severn Vale, thanks for another great weekend boys, we really enjoyed it. I would like to thank the staff Mr. Davies, Mr. Higgs and Mr. Steele for giving up their time and making the tour possible and ensuring it runs smoothly as always.
Mr. Rogers
Subject Leader for PE