Shakespeare Schools Festival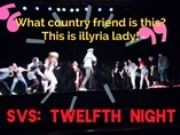 Severn Vale students deliver a fabulous performance of Twelfth Night at the Roses Theatre as part of the Shakespeare Schools Festival.
Picture the scene… a very rainy and windy Monday evening in Tewkesbury at The Roses Theatre. An evening when we would all rather be snuggled up in front of the television … oh no not when you could enjoy the sheer comedy brilliance of the Year 11 GCSE Drama students. As a teacher it was my seventh such festival and I can honestly say I have never been more proud or more entertained.
"Twelfth Night" is one of Shakespeare's comedies with a wide array of characters and a storyline that darts from shipwreck to unrequited love, lost siblings to below stairs tom foolery all of this was delivered with great aplomb and some truly memorable moments!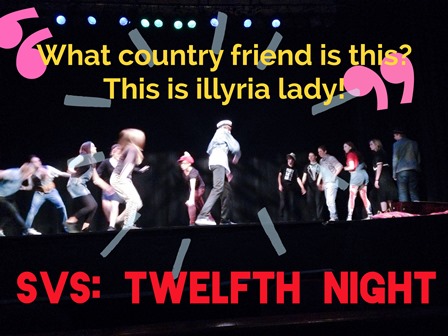 The character, confidence and sheer charisma of the cast was superb from start to finish. From Duke Orsino's (Steven Tarr) howls of unrequited love to his rendition of the dance moves from Whigfield's "Saturday Night". From the moving realism of the separated twins (Alex and Rosie Wilkins) and Olivia's (Shannon Weston) bereavement and confused emotions to their happy reconciliations and resolved loves. From the sheer mischief of Sir Toby (Mathue Clark), Sir Andrew Aguecheek (Iwan Bielecki) and Maria (Amy Oram) plotting the downfall of poor Malvolio (Connor Groves) bedecked in yellow stockings to his euphoria at Olivia's possible love interest. From the ensemble playing of all (Kyra Hanson, Byron Davies, Kyran Edwards and Emily Bradford-Salter) who had worked so hard on character, voice projection, teamwork, stage-fighting, line learning and just plain disciplined creativity. Every single student did their best and was a credit to themselves, their families and most certainly their school.
The feedback from the Festival Director was overwhelmingly positive – to the extent that he praised our Feste's (Charlie Foster) guitar playing having thought it was a professional sound recording! My thanks to Mr Wynn and Miss Hemmings who gave so freely of their spare time to plan and deliver workshops, stage fighting sessions and were invaluable on the day. Thanks also to Mr Tudor, Mrs Tomkins, Mrs Pearce, Mrs Hague and Mr Goble for their support. We were overwhelmed at the turn out of Severn Vale Staff who turned up en masse to support the students and were delighted at the number of parents, our Chair of Governors and ex- students who also gave up their time in front of a warm fire to watch this comedy gem.
Oh and thanks to Mrs Bartlett for the green ribbon!!