Year 8 Poetry Slam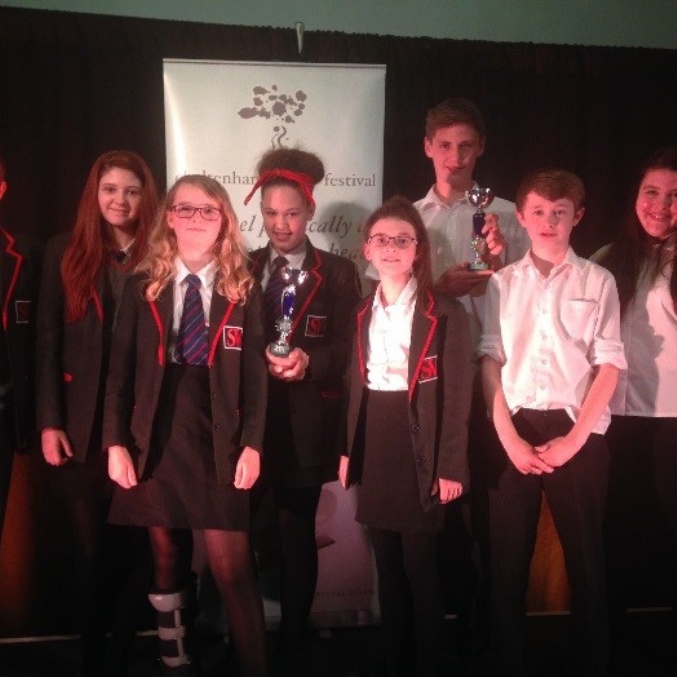 Year 8 students compete in the Gloucester Schools Poetry Slam
Two teams travelled to the 'Gloucester Schools Poetry Slam' at the Cheltenham Town Hall for the opening event of the Cheltenham Poetry Festival to defend the school's title in this event. The teams were – Rhymebena: Tiarna Marcus, Ellie Whitehouse, Adrianna Gwizdon and Joshua Hudd, and The Thesaurus-Rexes: Marcus McDonnell, Joshua Brain, Charlie Martin and Olivia Anderson. Despite only having two weeks of school time to prepare, all of the students worked extremely hard in the short lead up to the final to ensure they had learnt their lines and produced a polished performance. This year's theme was 'it's good to be me' and both teams wrote excellent poems that discuss why it is important to embrace our individuality and accept everyone for who they are.
On the night, our teams competed against other schools from the area in front of an audience of family, friends and people from the poetry world. The teams were very grateful to be well supported by a large number of parents and siblings who came along to cheer them on. The students involved were an absolute joy to work with and a credit to the school, they conducted themselves with maturity and were very gracious and supportive of each other and the other schools, proving themselves excellent ambassadors for Severn Vale.
The competition was judged by several people who are published poets and, after a very close vote, Rhymebena came in 2nd with the Thesaurus-Rexes taking 3rd. I'm delighted with both the result and the attitude and work ethic of everyone involved and I hope the students are all very proud of themselves and what they have achieved. I'm sure everyone who attended would agree it was an entertaining evening that allowed the students to showcase their talents and be justly rewarded. Thank you to Miss James for her help on the night and to Mr Wynn, Miss O'Neill and Miss Cooksley for their support and feedback in the build up to the final.
We look forward to working with Spoz and regaining our trophy again next year!
Miss Hemmings